Facebook has once again changed the way business pages can be used. This time, for the best. It is now so much easier to get higher engagement by offering different types of posts.
You can now create offers with ease, help people find your business with a post directly designed to target your location (great for brick and mortar businesses), and so much more.
Share news about your business with a photo or video right on the News Feed for all of your followers to see.
Advertise your business with ads that showcase its brand.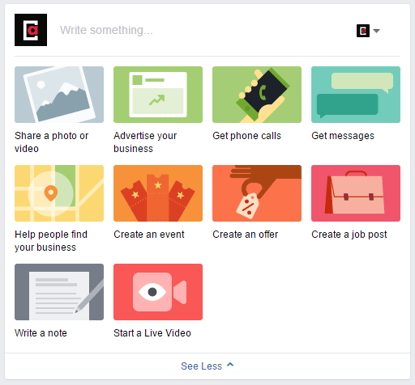 Leverage the simplistic features that make receiving phone calls and messages easy.
Create an event or job posting or start a live video to bring attention to upcoming events, job offerings, and developments in your business.
Leverage all of these marketing tools on your company's Facebook page right under the box where you would normally write a post.
The only option that costs money is the one that says "Advertise your business," which will bring you to Facebook Ads.
And most of these new tools will generate a post that looks like one that would generate if you were to share a picture, but each has a different purpose.
TIP: If you are using an option like "Get phone calls," "Get messages," or "Create an offer," make sure that you have a customized image that goes with the message that you are posting to entice your followers to click on the post and take advantage of its benefits.
Use the Platform to Advantage
With these new offers, Facebook has made it easier to focus your business page on achieving your social media goals. And with the use of the on-platform analytics, you will be able to determine if your new style of posting is achieving results for your business.
If you're interested in social media marketing, you should study up on the importance and value of hashtags.